How To Homeschool During The Coronavirus Crisis With Free Resources
With schools shutting down and your boss asking you to work from home amid the coronavirus outbreak, you may find yourself in a pickle. If you've never homeschooled before, you may find it hard to do so if you are a work-from-home parent. But regardless of working from home oro being a stay at home mom, here are a few things that will help your little one stay occupied whilst also learning new things so you can keep your sanity intact.
1. Check With The Schol Authorities
Check with the teacher or principal if they provide any online resources or learning material for kids. If they do, you can use those materials as most of them will have a grade by grade detailed guidance of what your child ought to learn.
2. Make Your Own Schedule
Remember that schools follow a strict schedule for kids. And there's no reason for you to break it now that they are home. Moreover, following a schedule will help you and your family make this transition with ease. You can create a schedule that suits your convenience or look up online for some guidance. Just make sure you include a lot of breaks in between for your little ones.
3. Check Out Audio Books And Podcasts
There are plenty of online streaming services that offer educational and fun podcasts for kids. You will have access to a ton of options to find something that your kid is sure to find engaging.
4. Create Your Own Cubicle
Being a mum and working from home can be tough as kids need our constant attention. However, establish some boundaries by setting up an office space at home and let them know that you can't be bothered at this time. Make sure you give the kids something on work on as well.
5. Make Screen Time Educational
Screen time can be educational, not just entertaining. So, instead of letting them watching PAW Patrol, you can try experimenting with a YouTube Channel that offers educational content for kids of each age group.
6. Use Nature And Life Skills As Learning Tools
Your child can learn so much from nature and his/her surroundings. Whether it is playing in the backyard or painting a flower that they find beautiful, nature has so much to offer in the form of art. You can also teach your kid how to bake a cake or a muffin as it also involves science and math.
7. Read Books
There's no such thing as too much reading. You can pick out a book that your child enjoys and read with them. Or choose different books and read separately enjoying some quiet time together. You can also read it aloud, maybe over some evening tea and cookies.
8. Download Free Worksheets
You can find different print worksheets and activity sheets for your kids online. They are free and have some pretty amazing activities for both education and art.
9. Take Breaks
Taking enough breaks should be an important part of the schedule just like anything else. And if you are using their screen time for educational purposes, try to include breaks where they can simply sit, stretch, and have some free time to do what they like. Allow them to play or indulge them in some physical activities as a form of destressing.
10. Connect Electronically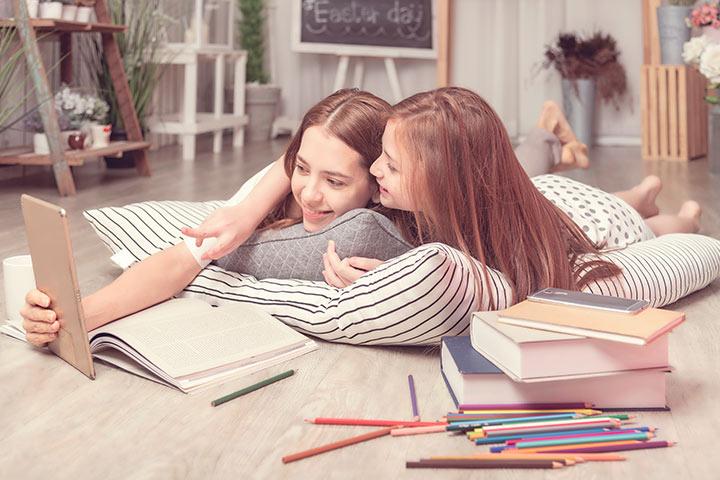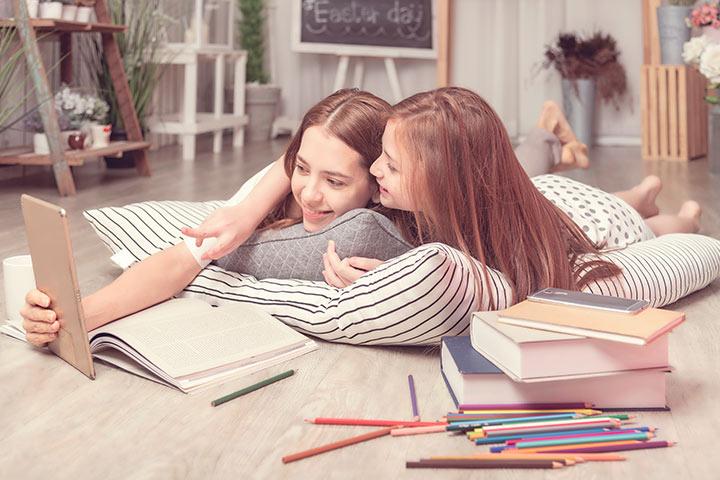 It can get pretty lonely when your kids are being homeschooled for days on end. One way to tackle this situation is to FaceTime with their friends so that they stay connected.
Don't be hard on yourself. Remember that it's more about keeping your kids and family safe than anything else. Make this time a nice bonding experience for your family and keep your kids closer and the world at a distance.
Was this information helpful?
Comments are moderated by MomJunction editorial team to remove any personal, abusive, promotional, provocative or irrelevant observations. We may also remove the hyperlinks within comments.